Our clinic provides services of endodontics in Iași. Discover details about this branch of dentistry and learn about recommended treatments.
Endodontics is an integral part of dental therapy which aims to save the teeth that are affected by an infectious or inflammatory process. It involves various curative procedures that can be performed within the dental cavity, root canals, or adjacent tissues of the roots.
Microscopic endodontics provides the specialist with a clearer view of the inside of the tooth. With its help, the endodontist can better identify and remove any infected or damaged tissue from the root canals, thereby minimising the risk of complications. This technique also reduces the need for additional treatments or retreatments.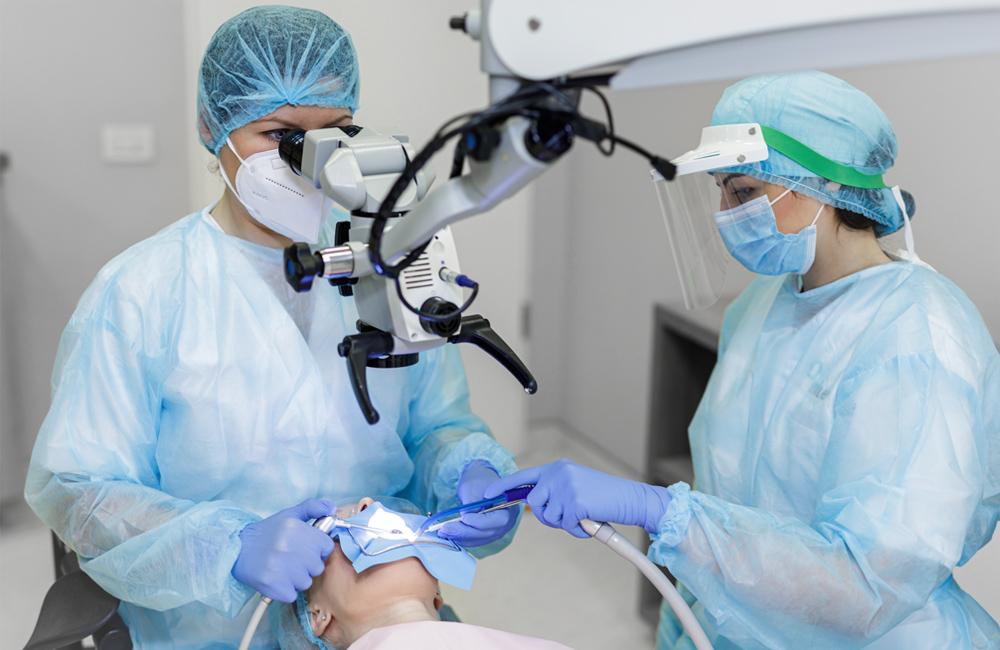 Endodontics in Iași: when is endodontic treatment necessary?
Endodontic treatment is the remedy for inflammation or infection caused by a specific lesion in the dental pulp. The initial symptoms may include:
pain;

prolonged sensitivity to hot or cold;

prolonged sensitivity to chewing;

discolouration of the tooth or 

swelling of the area. 
Good to know! Delaying endodontic treatment can cause severe pain or even dental abscesses. In addition, acute or chronic infectious processes of the dental pulp or surrounding tissues can trigger or complicate other existing diseases in the body. 
In the personalised treatment plan, the iSmile specialists always use the latest techniques and equipment:
The endodontic motor with a built-in apex locator (an automatic system for locating the apex of the root canal);

The system for root canal obturation with vertical condensation of warm gutta-percha, which allows for the creation of a definitive three-dimensional root filling;

The dental microscope, one of the most recent methods in endodontic treatment, which facilitates precise and safe canal treatments. With the help of this device, the success rate of the treatment increases, the risk of fracture is reduced, canals with an atypical shape that is not visible to the naked eye can be cleaned and filled, and broken surgical instruments in the root canal from previous treatments can be removed.
Good to know! It is recommended that after the completion of the root canal treatment, the tooth should be protected by placing a dental crown. This ensures the sealing of the restoration, minimises the risk of fracture, and strengthens the tooth in the long term. Additionally, the dental crown restores the natural appearance of the tooth after the restoration, helping it to function normally.
If you are in need of services of endodontics in Iași, we invite you to visit our clinic. Please contact us HERE, for an appointment. It's easy to reach us!