Our services are enhanced with the help of dental radiology in Iași. Read on, for essential details about this important branch of dentistry and the professional equipment we use.
Dental radiology supports the field of dentistry and contributes to the improvement of services provided by specialised dentists, by providing radiographic images used for the diagnosis and treatment of dental problems. With the help of these images, dentists can detect dental conditions and jaw-related issues such as dental caries, periodontal disease or maxillary sinus conditions. Additionally, proper interpretation of radiographs can significantly enhance the effectiveness of dental treatments. 
Good to know! The most commonly used types of radiographs are:
Panoramic radiographs;

Periapical radiographs and

Dental computed tomography scans (CT).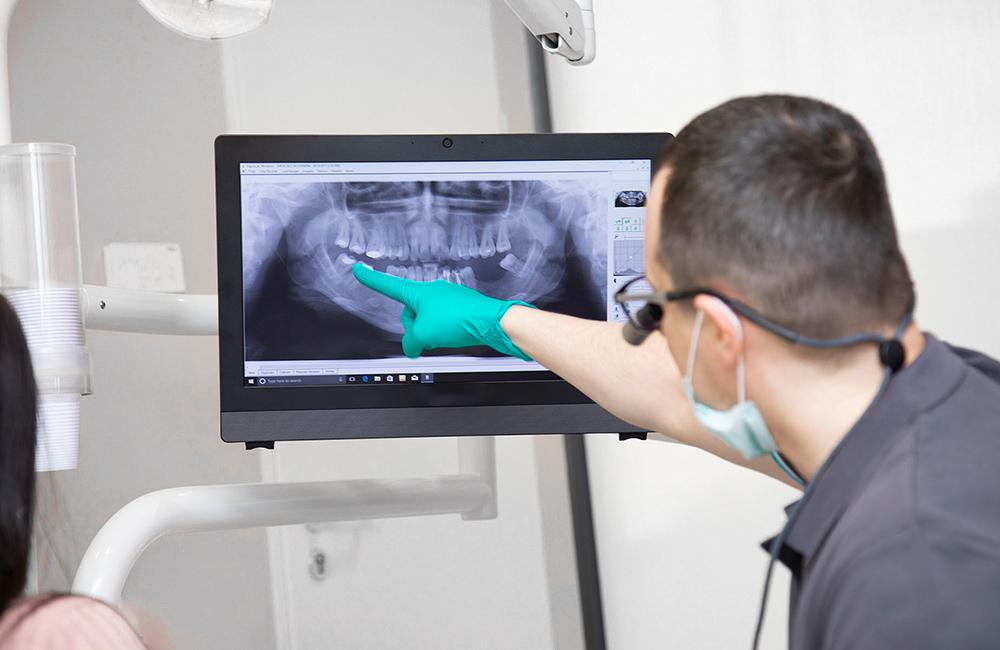 Dental radiology in Iași: state-of-the-art digital equipment
Our clinic owns state-of-the-art digital dental radiology equipment:
the Minray intraoral radiography system, which facilitates the capture of small-sized radiographs, targeting specific teeth or segments of the jaw;

the Digora Optime digital scanner, which emphasises the details captured in a radiograph, with its high-quality contrast;

the Cranex Novus digital panoramic X-ray unit, specially designed for panoramic radiographs.
All of these equipment are produced by the Finnish company Soredex.
Good to know! Some advantages of digital radiology equipment, include:
Generating radiographic images in digital format;

Improving the quality and resolution of radiographic images;

Enhancing diagnostic accuracy;

Reducing radiation exposure by up to 50%.
If you are preparing for a thorough consultation or dental treatment, we invite you to explore our services of dental radiology in Iași. For further information and appointments, you can contact us with a simple click HERE.